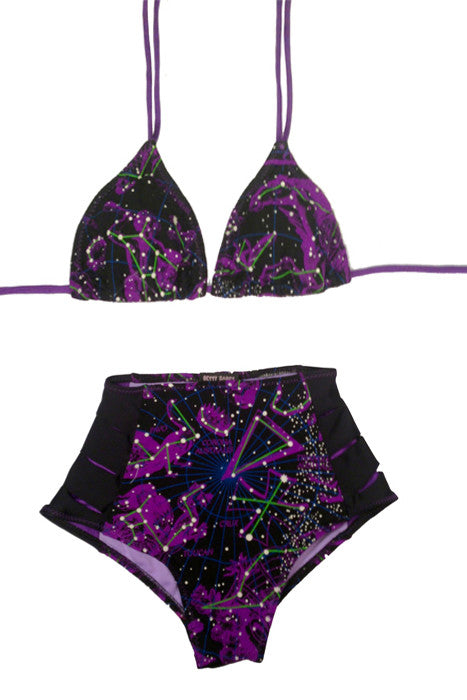 Stargazer (Highwaisted)
As Ms. Cleo, the 90's pay-per-minute pyschic and alleged shaman, said best... "Call Me Now" for this high-waisted Zodiac/Constallation, glow-in-the-dark print Teekini with black sliced sides and purple peek through panels. Lined in the front with Powernet, used to hold tummy in for a sleek, flattening look. Classic triangle-top, stiched in purple  and lined in lavender. Stamped with its very own limited edition number. This suit can be made into a regular bikini style.   Please advise when contacted regarded sizing.
*If you are in between sizes or unsure of size, Betty recommends to order a size up. Since the Teekinis are made from T-shirts, they generally do not have as much stretch as regular lycra bikinis.
*Please note when ordering custom sizing that additional pattern making charges may apply. You will be contacted shortly after order is placed for specific requests and to be informed of any extra charges.
*If you are unsure or have questions about sizing choose "Custom Sizing" and you will be contacted shortly after order is placed to ensure a perfect fit.
*Because these are all hand-made limited edition pieces, not all style/sizes are stocked, many are made-to-order with in 24-48 hours, therefore, overnight shipping is not offered.